The TSA nabs a full tube of Larry's toothpaste and then gets grabby with him. But Larry is compliant, if not soft and pliant.

Podcast: Play in new window | Download
---
Also in this episode, Larry continues his love affair with newspapers and the ink-stained wretches that write them. And speaking of news, a chapter of the Larry Miller Drinking Society makes the paper, and not even in the local crime blotter, if you can believe that!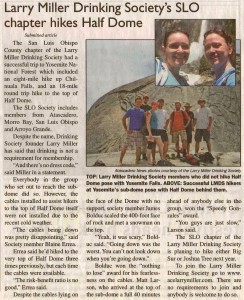 Then we hear about tough German helmets, worn by tough guys on not-so-tough bikes. Also, Larry talks about how sometimes he like memories better than he likes photos. And here's an update on the hamper update… this episode does contain another hamper update!
And so ends the second TWWLM with a punk song rock-inspired show title. Which is probably two more than anyone ever expected.
Quote of the week:
"She has not found one that satisfies whatever the conditions are."
Get your very own Larry Miller Drinking Society card by sending a stamped self-addressed envelope to:
Larry Miller Drinking Society
c/o ACE Broadcasting
10061 Riverside Dr. #276
Toluca Lake, CA 91602 USA
---
Enjoy the show? Tell a friend! And check out
www.larrymillerhumor.com
Or follow Larry on Twitter @larryjmiller

---
Show Credits
Executive Producer: Donny Misraje
Producer: Jeff Fox
Audio Engineer: Chris Laxamana
Show Summary: Matt Fondiler
Web Engineer: Sandy Ganz